TEADIT Kufstein - PTFE yarns & fibers


PTFE weaving and sewing yarns and fibers from TEADIT

With more than 50 years of experience in the sealing industry, TEADIT stands for competence, quality and innovation. The extensive product range plus the flexibility to react competently and quickly to customers' wishes have made Teadit as one of the market leaders in the PTFE market.
Advantages of PTFE yarns and fibers are:
Excellent processability on high speed weaving and sewing machines

100% UV resistance

Inherently non-flammable and does not support a flame

Food save and FDA approved

Broad temperature range of applications from -240°C to +270°C

Suitable for medical applications - generates not immune reaction

Chemically inert (pH 0 - 14)

Excellent weather resistance

Hydrophobic - undiminished tensile strength in wet environments

Applicable in vacuum systems

Extremely low coefficient of friction
Advantages
The WEAVING YARNS for the production of high standard textile fabrics and mesh fabrics attract worldwide attention for both architectural and industrial applications. TEADIT PTFE yarns manufactured as backing fabric and scrim are further processed to non wovens for filtration and several technical applications in our laboratory.
TEADIT is further producing SEWING THREADS for high-tech and high speed sewing as well as for applications with comprehensive technical requirements in terms of temperature and chemical resistance. Our PTFE sewing yarns are extremely resistant against UV radiation and weathering for high-standard awnings and other applications exposed to natural or artificial environment. Unlike conventional threads our sewing threads do not become britle under any circumstances and hence enhance the durability of our client's products.
HYGIENIC YARNS are manufactured at TEADIT under high industrial hygiene standards. In entirely separated and sealed off rooms TEADIT manufactures hygiene products such as dental floss according to the requirements of you as our customer.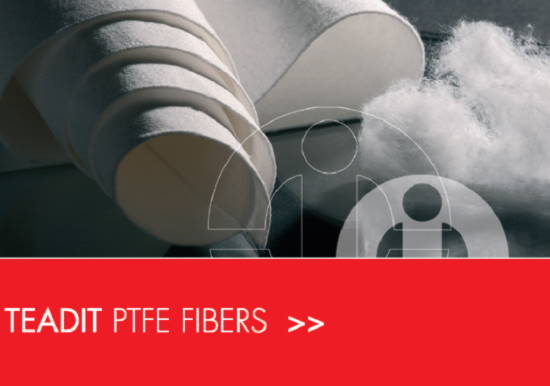 Our PTFE FIBERS are made in accordance with the highest international standards and fulfill the individual requirements of our clients. Fibers with diverse lengths, thickness and permeability properties can be developed in the TEADIT laboratories. The TEADIT PTFE FIBERS are utilized for the production of:
Standard Products
TEADIT is producing PTFE staple fibers as well as PTFE weaving and sewing yarns from pure virgin ePTFE. According to the clients requirements TEADIT is developing a wide range of expanded ePTFE products.
The list of standard products comprises the following:
PTFE sewing threads in
dtex 1400 white
dtex 1400 green/white
dtex 1700 black

PTFE weaving yarns in
dtex 360 white
dtex 380 white
dtex 440 white

PTFE dental floss
Monofilament

PTFE staple fibers in
dtex 2 - 8 with a cut length of 70 mm
other cut lengths on demand
Research and Development
The secret of the growing success of TEADIT ® lies in the continuous development and extension of the experience which was acquired over more than 50 years in the sealing business.
First and foremost attention is paid to our customers' problems and their field of application, according to their requirements and needs the products are developed in close cooperation with them.
Quality
Our high demands for the quality of our products, cost effective manufacturing procedures, innovative product developments and an efficient and competent customer service are guaranteed by the strict quality management and continuous improvements.
The group-wide ISO 9001 certification confirms the quality guarantees. TEADIT International in Europe has been issued with the ISO 14001 certificate.