Jiaxing Fulin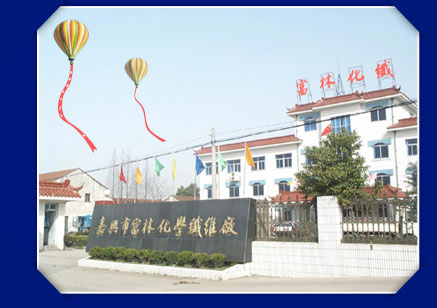 Founded in 1995, Jiaxing Fuda Chemical Fibre Factory is now a professional manufacturer and exporter of Polyester Staple Fiber and Polyester Tow.
For fiber the factory is equipped with 6 advanced production lines with an annual capacity of 60,000 metric tons.
For tow Jiaxing Fulun is one of the few factories that could produce excellent Polyester types. The yearly capacity is about 4500 metric tons.
In the past decade Jiaxing Fulin has achieved great development and has become one of the leading suppliers in fiber field as well as to the flocking industry.
Jiaxing Fuda Chemical Fibre takes up an area of more than 86,000 square meters and employs over 800 employees, among which about 15% are senior managers and technicians. It associates with 4 other companies, namely Jiaxing Fulin Chemical Fibre Factory, Jiaxing Fushun Waste Plastic Recycling Co. Ltd, Heat and Electricity Branch Factory and Furuisen Water Punch Non-woven Co. Ltd. The 5 merged companies have done a great contribution to the local economy and also helped to improve people's living standard.
As the main material for producing Chemical Fibre is from Recycled Bottle Flakes, Jiaxing Fuda Chemical Fibre Factory well executes the Strategy of Sustainable Development encouraged by the government, and promotes the coordinated development between environment and economy.
Thanks to ten years' experience in the fiber industry they have steadily expanded the business from the domestic market into the international markets. Jiaxing Fulin has established stable and good partnership with customers in North America, Europe and Southeast Asia , etc. Adhering to the business policies of "Seeking excellence", "Customer first" and "Technical innovation", they enjoy a good reputation among the global buyers and are attempting to make "FULIN" a famous brand worldwide.
Jiaxing Fuda Chemical Fibre Factory has strived with all efforts for high quality, best service and good reputation to customers ever since its foundation. In the present competitive global fiber market, we sincerely invite domestic and overseas customers to cooperate with us for mutual benefit, in the hope of perfecting both our products and service.
TYPE
SPECIFICATION
APPLICATION
PICTURE

Regular (Solid) PSF
1.White, Black or Colored,
2.Siliconized or Non-Siliconized, 3.High-shrinkage or not as requested

1.8D-18D,
25MM -128MM
spinning, polyester wadding and padding, artificial cotton, carpet, heat mangle, needle-punched non-woven, bedding, toys, man-made fur, etc

Hollow PSF
1.White or Green,
2.Siliconized or Non-Siliconized

6D-25D,
32MM -64MM
home textile, filling material for sofa, cushion, quilt, clothes, toys, etc

Hollow Conjugated PSF
Siliconized or Non-Siliconized

6D-15D,
32MM -64MM

home textile, filling stuff for pillows, blankets, comforter, toys, carpet, etc

Polyester Tow
1.White or Black,
2.Regenerated or Virgin, Bright, Semi-Dull, Full Dull for White Tow

1.5D-45D
static flocking
The QC Department has established a complete network to manage production and quality. There are four steps for quality control: factory, workshop, working shifts and individual worker. The department is well equipped and has very strict control over quality inspection from the selection of raw materials (PET) until the final products. A perfect and pragmatic management system as well as systematic training and education make all workers aim towards the goal of "No Inferior Quality" and allow the factory to guarantee the quality of its products.


Test Equipment and Facilities
| | | |
| --- | --- | --- |
| | | Staple Fiber Winding |
| | | Central Control Room |
| | | Staple Fiber Winding |