Combi yarns are fusible bonding yarns with normal melting PES or PA yarns twisted around


Solving product ideas with
combi fusible yarns
There may be occasions where your production process could dramatically be improved or where the quality of your product could be brought to a much higher level if there was the possibility to bond parts of a textile fabric or product on a permanent basis and keeping a normal polyester or polyamide yarn in its place.

Our combi-yarns play an important part in the economics of clothing production. They are made up of a fusible bonding fiber which is twisted with a normally melting polyester or polyamide supporting fiber. When exposed to heat the fusible adhesive fiber of the combi-yarn, which due to its low melting temperature is only used as lower thread, melts and forms an adhesive bond while the supporting fiber remains unchanged to form a stitched seam with the top thread.
Our combi-yarns are manufactured in various counts from 45 to 1100 dtex and are available with melting points of 85° C and 140° C.
Application possibilities for the products vary widely:
edge bonding of raschel lace

fastening of very fine embroidery to burn-out gauze for iron-on application

fixing of seams, collar gussets, chest pieces and trimmed edges

leading-edge seams for men's and boy's suits and lady's outerwear.
Grilon combi-yarns can be sewn into normal zig-zag or overlock stitching on edges which are then folded and bonded using a hot iron. The result is a soft, strong seam without marking on the surface of the fabric such as when using fusible film.
Technical Service
The state-of-the-art laboratory and technical center of Ems-Griltech enables us to provide specific and custom-tailored customer support or for co-operation in the creation of your solutions.
We take up the challenge of satisfying the constantly increasing requirement specifications made of our products in order to remain a strong market partner with innovation and technical service in the interests of our customers.
| | |
| --- | --- |
| Product | Description of Combi Fusible Bonding Yarns |
| C 85 | Grilon Combi Fusible Bonding Yarn with two components for different melting temperatures. |
| C 140 | Grilon Combi Fusible Bonding Yarn with two components of different melting temperatures with higher melting range. |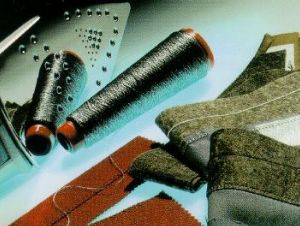 Swicofil is your partner to help you improving your textile and industrial textile product performance, to find new solutions for existing products, to explore new product design possibilities.

Long term experience in the field of synthetic and natural yarns and fibers enables us to guide you in the right direction. Knowing well the properties and performance of all the yarns and fibers and after many years of excellent contacts with the synthetic and natural fiber producers we are confident to be able to assist you.

.